How Long Do Brake Pads Last?

When you're on the road, you rely on your brake pads more than you think you do. They are essential pieces of your vehicle's brake system that are very easy to forget . However, it's important to stay on top of their maintenance and repairs before you find yourself asking, "How long do brake pads last?"
To make sure you can keep driving and braking around Hyannis, Barnstable, and Yarmouth, MA, feeling confident in your vehicle, Ira Toyota of Hyannis has put together this convenient guide to all your brake-related questions.
Continue reading to learn more before scheduling brake service!
Your Vehicle's Brake Pads
Brake pads can last for anywhere from 25,000 to 65,000 miles. However, the lifespan of the brake pads can vary due to a few different factors:
Type of vehicle and brake pads
Where you drive
How you drive
The more intensely and more frequently that you use the brakes, the fast they'll wear down. So, driving slower can help to ensure that the brake pads last longer. You could also try to coast or downshift more often rather than ride the brakes.
You'll want to make sure that you replace the brake pads before they get too worn down though. Luckily, there are a few things you can look out for to let you know that it may be time for a brake pad replacement.
Signs That Brake Pads Need to Be Replaced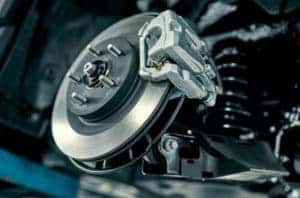 Even if you aren't sure how long the brake pads should last, there will be a few signs telling you that it's time for that replacement:
Brake light appears on dashboard
Squealing sound when braking
Harder to come to a complete stop
Brake pedal vibrates when braking
Many modern vehicles come equipped with brake pad indicators, which work in a variety of ways. Some brake pad indicators will activate a dashboard light, while others will start to emit an unpleasant squealing sound when you brake.
You also might find that it takes longer than usual to bring your vehicle to a complete stop or that the brake pedal vibrates when you use it.
If you're experiencing any combination of these issues, then it may be time to bring your vehicle into a service center to have a technician look at the brake pads.
Brake Services and More at Ira Toyota of Hyannis
Our dealership can help with all your brake service needs. Firstly, our technicians will check the condition of the brake pads each time you come in for routine service to make sure that they're still in good condition.
If the brake pads get too worn down, this can cause damage to the rotors and other parts of the brake system. So, our technicians will check these areas as well to make sure everything is still in top condition.
With the help of our fully stocked parts department and our state-of-the-art facilities, our team will install brake pads that are made to work with your vehicle. When all is said and done, you'll drive home from our dealership feeling good about your choice to work with us.
Schedule Brake Service Today!
We hope that we've provided an answer to the question, "How long do brake pads last?" However, if you have more questions about your vehicle's brakes or any other maintenance needs, the Ira Toyota of Hyannis service team is here to help.
We want you to feel confident about your vehicle's capabilities as you drive around Hyannis, Barnstable, and Yarmouth, Massachusetts. So, contact or come visit us for your car's brake pad replacement and more!